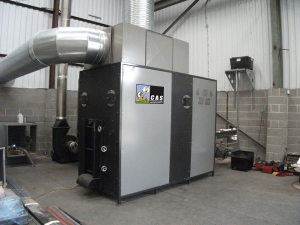 FULLY COMPLIANT TO MEET THE CLEAN AIR ACT FOR HARDWOOD – SOFTWOOD – CHIPBOARD & M.D.F. (SECTION 20 CLEAN AIR ACT 1993)
STATUTORY INSTRUMENT 2011 No. 74
The full range of CAS Woodheaters are now fully DEFRA approved.
Model
Length
Width
Height
Heat Output
Weight
Hot Air Fan Motor
Volts/Phase
CAS 300 Max
2870
1400
2400
300KW
1,000,000 BTU/HR
3500 KG
7.5KW
415 v – 3Ph
Neutral & Earth
Full automatic warm air system
Low noise – Low electric high efficient flue gas fan
Low pressure drop cyclone for ash collection/removal
Robust Construction
Will integrate with your dust extraction system
This range of products has its foundations in a proven design that has been developed to give free heating from wood waste material.
Fully automatic heating system that integrates with dust extraction plant and wood chippers to give on site waste control and environmental benefits with overhead cost reductions and startling pay back savings that end up as profits.
PLC controls that are user friendly & simple to operate.
Easy to maintain and simple to clean.
Robust in construction to give a long working life.
Available in its own transportable shipping container / boiler house for quick installation.